Selling products on Amazon is a great way to run your own small business. There are many ways sellers go about securing their products. 
One way that many Amazon sellers choose to do business is through wholesale selling on Amazon. When done right, this process can turn a big profit and become a rewarding way to do business. 
If you are interested in becoming a wholesale seller on Amazon, we have a few strategies to help you get started. 
Key Takeaways 
Wholesale selling on Amazon requires buying products in bulk directly from suppliers and manufacturers. Sellers will need good negotiation skills to maximize their profits.

 

Choosing wholesale products that are popular on Amazon and not sold directly by Amazon is crucial to having wholesale success.

 
The wholesale process lets sellers focus on their products, instead of trying to improve listings and build their own brand.

 
What Is Wholesale Selling on Amazon? 
Wholesale selling is the process of buying products in bulk directly from the manufacturer, and then selling them individually. While this may sound like other Amazon selling processes, there are some key differences that set it apart from processes like: 
Arbitrage:

 Arbitrage is when businesses purchase products from retailers at discounted prices, and then sell them on Amazon for a profit. Wholesale differs from arbitrage because it requires purchasing bulk items as opposed to individual purchases.

 

Private Label:

 Private label sellers on Amazon have their own brand of products that they sell. Sometimes they may look like name brand products, but they are generic with a custom brand.  Wholesalers will only sell popular name brand items that come from a manufacturer.

 

Dropshipping: 

A drop shipper will list items for sale on Amazon. When someone purchases that item, the drop shipper will place an order through the supplier to ship the product to the customer. Wholesalers must manage and fulfill their own orders, or let Amazon do it.

 
Six Strategies for Selling Wholesale on Amazon 
Now that you understand what wholesale selling on Amazon is, you can explore these valuable strategies to help you succeed.
Research the Right Products to Sell 
Choosing the right wholesale products is one of the most important steps in successful wholesaling. Because you must buy in bulk, you need to choose a product that will sell well, and sell quickly. You will need to do thorough research on Amazon to find the ideal product. 
You need to find a product that is not a private label item or that is already sold by Amazon (look for the "Sold by Amazon.com" designation). There is no way a wholesale listing can compete with an Amazon product, as Amazon will always undercut you for the sale. 
Other product tips to consider include choosing a popular item, not selecting a seasonal item, avoiding "trendy" products, and making sure the manufacturer is not already selling it on Amazon. Some of the most popular product categories on Amazon include electronics, clothing, kitchen items, beauty products, and books. 
Find a Supplier
With your niche products in mind, it is time to find a supplier. You can use a wholesale directory like Wholesale Central to search for companies in your desired product category. Choose a few companies with products you think would sell well on Amazon, and start crafting your proposals. 
Negotiate with the Company
Once you have narrowed down your list to your top product and company considerations, it is time for the hard part – negotiating. Having good negotiating skills is critical for any wholesale buyer. You also need to approach the process with confidence as opposed to anxiety. 
Contact the manufacturer directly. If you decide you want to sell a certain brand of pet products, you will need to negotiate with that brand for a bulk price. You can send them an email first to ask how to get started. A company may say no to your offer. You need to convince them that having you as a seller will be good for their brand.  
Look for ways that you can help improve their brand. This could be leveraging your Amazon selling experience, pointing out how you can bring them more business, or offering a large deposit and a long-term contract. 
Consider Letting Amazon Handle Fulfillment 
If you are just getting started in your wholesale business, you might want to consider letting Amazon handle the fulfillment process. This way, you won't have to worry about shipping or having a space to store your inventory. You might even be able to negotiate for the wholesalers to ship your products directly to Amazon. The one thing to keep in mind, is that you will have to pay some Amazon fees for the fulfillment process. 
Promote Your Products on Amazon 
As a wholesaler, you will likely be competing with other sellers on Amazon. With the right promotion techniques, customers will be adding your products to their carts. You can try marketing tactics such as retargeting on Facebook, running sponsored ads, and encouraging reviews. 
Price Your Items Right 
Price is one of the most important considerations for an Amazon product. You want to price your item competitively without cutting into your profits. Jungle Scout recommends keeping your product within 2% of the Buy Box price. However, you want to avoid getting into a price war with your competition. 
If your listing does not earn the Buy Box, buyers may find you by clicking on the link for additional offers (outlined in red in the following image) to see all sellers and their listings.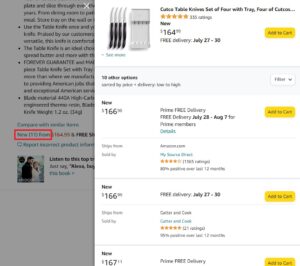 Benefits of Selling Wholesale on Amazon 
Once you are comfortable with the wholesale process, you may find it is your favorite way to sell on Amazon. Here are some of the key benefits to selling wholesale on Amazon: 
Sell Name Brand Items:

 Brand name items come with a built-in popularity. This means you don't have to spend time convincing people it is a good product.

 

Focus on Products:

 Because you are selling name brand products, you will not have to create an Amazon listing. This lets you focus your attention on sourcing your products and growing your profits.

 

Simplified Process: 

When all your wholesale wheels are turning smoothly, the process becomes straightforward, especially if you let Amazon handle the fulfillment. Your main task will be keeping your products in stock.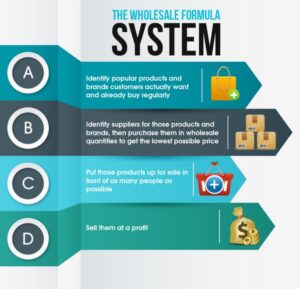 Put These Wholesale Strategies to Work and See Your Amazon Business Grow 
With a popular item, a reliable supplier, stress-free fulfillment, and targeted promotions, your wholesale business will be pointed in the right direction. Amazon is a great place to expand your business-savvy skills and make a profit at the same time. 
To learn even more about maximizing your Amazon business, read through our other Amazon seller guides.