Having a good Amazon PPC (pay-per-click) strategy is one of the key components to having success on Amazon. An Amazon PPC campaign is a great way to get your products in front of customers who are ready to buy. It is also an effective way to measure advertising performance to see which ads are performing the best.
This valuable marketing tool is a popular choice among Amazon sellers. According to the Amazon Advertising Report from 2021, 75% of Amazon sellers use at least one kind of Amazon PPC.
This guide will take you through some tips that you can use to improve your Amazon PPC campaign.
Key Takeaways
Amazon PPC campaigns should be an important part of any successful Amazon seller's strategy.
Sellers can choose what type of Amazon PPC ads they want to run, including which keywords to focus on.
Sellers should monitor their PPC campaigns weekly to see how they are performing.
Why Is Amazon PPC Important?
Amazon is the largest online retailer in the world. Every month, Amazon records about 2.5 billion visits. The second-closest site is eBay, with only 885 million visits per month. 
With that many visits, you want your products to be in front of these potential customers. Amazon PPC is a great way to do that.
Your listings can easily get lost in the more than 350 million products for sale on Amazon, including the Amazon Marketplace listings. With a PPC campaign, you can quickly help your products jump to the top of the search results.
Types of Amazon PPC Campaigns
There are three types of Amazon PPC advertisements.
Sponsored Brands:

These types of ads usually appear as a headliner at the top of the page. They feature robust visuals and can stand out more than other types of PPC ads. There is also another type that can appear further down the search page as a video. When a customer clicks on these ads, it leads to the brand's Amazon Storefront or a product detail page.

Sponsored Products:

A Sponsored Product ad will appear at the top of the search results and look similar to organic listings. Customers will see "Sponsored" at the top of the ad. This is the most popular PPC type and is used by most third-party Amazon sellers.

Sponsored Display:

These are the newest type of PPC ads, and they appear both on and off Amazon. They usually occur when a customer has visited a product detail page and then visited an Amazon affiliate site, like Netflix, Facebook, or Google. You must have a

registered brand

to use these ads.
You can see two types of PPC ads in the image below: the Sponsored Brand banner at the top and the "Sponsored Product" ad in the search results.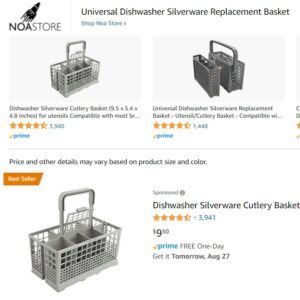 Here, you can see a Sponsored Display that appears on the side of an Amazon product listing.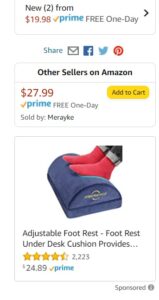 Depending on the type of ad you choose, the cost per click usually ranges between $0.50 and $1.50. You can tell Amazon how much you are willing to spend each day. When you reach your daily limit, your ads will no longer run that day.
Automatic vs. Manual Targeting
Choose the right keywords for automatic targeting, manual targeting, or a combination of both.
Automatic Targeting
Automatic targeting uses Amazon's product algorithms to choose keywords that relate to your product. Amazon will use data from shoppers' behaviors to adjust the ads to increase conversions. You can choose from four keywords match types:
Close match:

These ads appear when a shopper uses search words closely related to your advertised product.

Loose match:

If a searched keyword is loosely related to your product, its ad may appear.

Substitutes:

If a customer is searching for a specific product brand, your ad may appear as a suggested substitution. For example, it could recommend your Cuisinart blender listing when someone searches for a Kitchenaid blender.

Complements:

These ads target shoppers who browse pages of products that complement your listings. For example, they might see your ad for paintbrushes when searching for a set of paints.
Choosing automatic targeting is the easier way to do PPC ads. However, you may lose some optimization that manual targeting offers.
Manual Targeting
With manual targeting, you choose the keywords to use for your ads, meaning your ads will only appear when a shopper's search matches your specified keywords. This type of targeting requires more work and monitoring. However, it frequently leads to more effective ads and a lower long-term cost.
7 Tips on Creating a Successful Amazon PPC Campaign
Understanding the importance of Amazon PPC is the first step. Next, you need to create a successful campaign. Use these 7 tips to get started.
Test Different Types of PPC Campaigns
Try all three types of PPC ad campaigns. Adjust your keyword strategy using both manual and automatic keyword targeting.
Do Detailed Keyword Research 
Use Amazon keywords tools like Jungle Scout's Keyword Scout to do keyword research. Focus your searches on keywords related to your products and the competition.
Aim High for Ad Budgets Initially 
When first starting your PPC campaign, give yourself a big budget. Aim for 50-100% more than what Amazon recommends. Once you know what works well for your products, you can adjust.
Let Ads Run for Two Weeks 
You want to know what is going on with your ads. This may cause you to repeatedly run reports. Be patient and let the ads run for at least two weeks before checking reports or making any changes.
Use Automatic Campaigns to Improve Manual Campaigns 
You can use the reports from your automatic targeting ads to improve your keyword strategy for manual campaigns.
Wait for 10 Clicks Before Making Changes 
Wait until a keyword has received at least 10 clicks before removing or making changes to your manual campaigns. Waiting for 10 clicks is a good way to get a baseline for how specific keywords perform and turn into sales.
Review Reports Weekly 
Once your Amazon PPC campaigns have built up momentum, you should review your ad reports weekly. Then, you can add, remove, and adjust as needed.
Watch this YouTube video to learn even more strategies for building successful PPC campaigns.