Selling products on Amazon is a great way to own your own business and start earning a profit. 
Amazon is the largest online retailer in the world with 92% of online shoppers in the U.S. saying they have bought at least one item from Amazon. 
A large part of Amazon's business is third-party sellers. In 2020, Amazon reported that $80.5 billion of its revenue was driven by third-party sellers.  
Are you ready to become a part of this multi-billion-dollar industry? If so, you can join the ever-growing number of sellers who participate in the Fulfillment-by-Amazon (FBA) program. With this type of program, you choose the products you want to sell, send them to Amazon, and Amazon takes care of the shipping and customer support. 
While this selling formula can quickly turn a profit, the key is finding the right products. This guide will take you through some Amazon FBA product research tips to make sure you are choosing the ideal products. 
Key Takeaways:
Amazon FBA sellers need to focus on profit potential, product demand, and the competition when choosing products to sell.

 
Rely on data-driven research to choose the most profitable products.

 

Find holes in the competition's listing strategy to improve your listing's potential.

 
Three Key Criteria to Focus on When Doing Amazon FBA Product Research 
When considering products for your Amazon store, you should ask yourself these questions. 
How Much Profit Can I Make with This Product?
The goal in selling on Amazon is to make as much profit as you can. You can use a general "rule of 3s" to estimate your potential profits. Whenever you sell a product, you should plan on one-third of the sale price going to Amazon fees, one-third going towards operation costs, and one-third as profit. For example, if a product sells for $30, you can expect a profit of $10. 
Here is a quick breakdown of Amazon's fees: 
Referral fee:

This is usually a flat 15% fee that you pay when a product sells.

 

Selling plan fee:

For professional sellers, this is a monthly fee of $39.99. Smaller sellers who sell fewer than 40 items per month will pay $0.99 per sale.

 

Fulfillment fee:

This applies only to FBA sellers and is a per-product fee that covers the cost of Amazon packing and shipping your product. It varies based on a product's dimensions, weight, and which marketplace you are selling in.

 

Storage fees:

FBA sellers will have a monthly storage fee or long-term storage fees, depending on their product needs.

 
Is This a Product That Sells Well Online?
You need a product that people want and that sells well. You should avoid seasonal items, products with significant design flaws, and products that are big and heavy. Items that cost between $20 and $50 also tend to give sellers the biggest returns. The ideal demand for your product should be about 10 sales per day. 
A great way to assess the demand for a particular product is by checking its best seller rankings (BSR) on Amazon. The lower the BSR, the more demand there is for that product. If the BSR is 1, that means it is the highest-selling product in that category. 
Take this product, a 40-pound bag of Diamond Naturals dog food. It has a BSR of 289 in Pet Supplies and a BSR of 34 in Dry Dog Food. There is good demand for this product.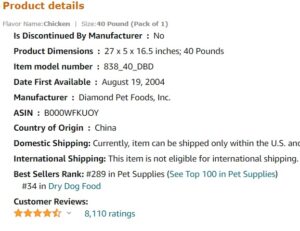 How Many Other People Are Selling Similar Items?
The third major consideration is competition. Look for similar products on Amazon and check out their reviews. Look at the top 10 listings of the product you are considering. If 3-5 of those listings have fewer than 50 reviews, there may be room for more competition with that product. 
What Products Does Amazon Sell the Most? 
According to the 2021 State of the Amazon Seller Report, these are the top 10 selling categories on Amazon and the percentage of sellers with products in that category: 
Home & Kitchen – 40%

 

Sports & Outdoors – 21%

 

Beauty & Personal Care – 19%

 
Toys & Games – 19%

 

Health, Household & Baby Care – 18%

 

Kitchen & Dining – 16%

 

Office Products – 15%

 

Tools & Home Improvement – 14%

 
Garden & Outdoor – 14%

 

Pet Supplies – 13%

 
Four Product Research Strategies to Help You Make More Money with FBA 
Even with the right goals, finding the right FBA products can be tricky. These tips can help you minimize your search efforts and land you more profitable items for your Amazon business. Be sure you are focusing on the data not just what you think would sell well. 
This YouTube video offers a wide range of strategies. 
Check Amazon's Selling Lists
Amazon loves lists. Use these to your advantage. Search through these lists to start creating a list of products you would be interested in selling: 
Amazon best-sellers lists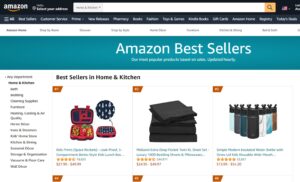 Amazon storefronts

 

Amazon's Movers & Shakers

 

"Customers Also Bought" listings

 
Amazon product sub-tiers

 

AliExpress weekly best-sellers list

 
Once you have your list of potential products, you can use Google trends, Google keyword planner, or other Amazon selling tools to determine if your potential products are in demand. 
Consider Creating a Private Label
One of the best ways to stand out in the Amazon marketplace is by creating your own brand. Through this process, you take a product that already exists and relabel it with your brand. You can also make changes or improvements to make your product unique. 
One downside to this method is that it could take longer to establish your brand and product. However, there is the potential for higher profit margins since you would be working directly with a manufacturer. 
Evaluate Listing Quality
High-quality listings are a great way to stand out from the competition. When considering a new product, check the listings of the current top sellers. Do you see ways that you could make your listing better?  
You want a listing that includes detailed bullet points, tells a story, and includes a range of natural keywords. You can use tools from Jungle Scout and Ahrefs to help you find the best keywords for your potential product listing. 
You also want to consider the visual aspect of a product listing. If the competition does not have high-quality photos, this could be a good way to beat them. Online shoppers want high-quality images from multiple angles since they cannot see or touch the product themselves. 
Focus on Simple and Legal Products
When doing your Amazon FBA product research, avoid complex products with a lot of parts and electronic components like watches, TVs, cameras, home appliances, and fragile items.  
You should also avoid products that may have legal issues, such as counterfeit items and trademarked goods. Amazon also has a list of items that sellers are restricted from selling on Amazon. Some items are specifically prohibited from the FBA marketplace. 
Incorporate These Strategies into Your Amazon FBA Business 
With the right products, your Amazon FBA business can grow rapidly. By incorporating these product research strategies into your business, you may see an increase in your profits. 
You can learn more Amazon selling strategies from the Prosper Show. This trade show is held each summer and attracts thousands of Amazon sellers, suppliers, and related companies. 
If you missed the Prosper Show, you can catch up with the online Prosper Remix show. This gives you on-demand access to numerous sessions from both days of the Prosper Show.