The internet has changed the face of retail shopping. With ecommerce, people can shop from anywhere at any time. It puts consumers in the driver's seat and empowers them to shop on their terms. In fact, every year more than 2 billion people buy products online.  
Amazon is an ecommerce leader, bringing in annual net sales of $232 billion. With so much profit potential, it's no wonder people are interested in selling on Amazon. Amazon sellers can maximize their experience and work more efficiently with proper FBA training. 
Key Takeaways 
For a monthly fee, you can enroll in the Amazon FBA program and they'll store, package, and ship your items to buyers on your behalf.

 

Amazon FBA provides retailers with convenience, peace of mind, and a streamlined process that positively impacts their bottom line.

 

Although Amazon FBA could be learned on your own, you'll find a more direct path to success through one of the many FBA training courses available online.

 
What Exactly is FBA and Why is it Valuable? 
Amazon provides a service called Fulfillment By Amazon (FBA). This program enables sellers to send their products to an Amazon fulfillment center, where they are stored until someone makes a purchase. Then, Amazon employees prepare, package, and ship the products on behalf of the seller. All retailers have to do is keep the warehouse stocked with their products, and Amazon handles the rest.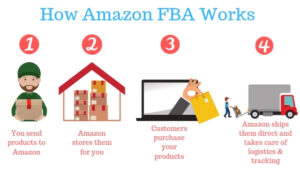 For businesses that don't have the space to store inventory, this service is particularly beneficial. Not only do business owners not have to take up valuable real estate, but they know their products are being kept safe in a trusted and secure environment. For a monthly subscription fee, Amazon sellers can enroll in the Amazon FBA program and receive numerous benefits, including: 
Credibility:

 When Amazon's name is associated with your merchandise, you gain a level of credibility among buyers. People trust Amazon, and they've come to expect (and receive) quality customer service and speedy delivery with FBA. Consumers may be more inclined to purchase from you if you're an FBA seller.

 

Quality customer service:

 Amazon provides 24/7 customer service management that not only answers your questions as a seller – it also fields inquiries, returns, and refunds on behalf of its members. With the exception of a Returns Processing Fee on certain products, customer service management is free.

 

Lower shipping fees:

 Amazon's relationship with shipping companies means they can pass shipping savings on to you. FBA sellers not only save money on shipping costs, but they're also able to offer buyers free shipping on some purchases. Merchandise sold through FBA qualifies for Amazon Prime and Free Super Saving Shipping. This helps sellers 

attract new and existing customers

 who filter their searches for Prime products.

 
Amazon FBA not only provides convenience and peace of mind – it helps businesses streamline their inventory and fulfillment processes, which helps to positively impact their bottom line. 
3 FBA Training Resources to Boost Amazon Sales 
While you could research the ins and outs of becoming an effective FBA seller, the time and steep learning curve involved would keep you from quickly reaching your goals. Make the most of your FBA opportunities by enrolling in some online courses for a more direct route to success. Check out these 3 FBA training resources that can help you earn more on Amazon. 
The Amazing Selling Machine
With more than 30,000 members, this is the most popular FBA training experience in the world. Founded by successful entrepreneurs Jason Katzenback and Matt Clarke, this training is ideal for total beginners looking for a step-by-step blueprint to boosting income. For $4,997, enrollees receive: 
8 weeks of training:

 This includes about 180 in-depth videos that explore everything from the basics of FBA to advanced skills to grow your brand.

 

Mentorship:

 You'll have access to a network of business leaders who will help walk you through every step of your journey.

 
Private community:

 Connect with other marketplace retailers in your same position and share your experiences to learn from and help one another.

 

Resources:

 The founders supply enrollees with all of their private templates, tools, and contacts to help set you up for success.

 
This training experience helps you learn how to choose and source products, develop your store, optimize listings, and draw in customers. If you don't succeed in six months, the company will reimburse you and purchase up to $7,500 of your products. 
Ultimate Amazon Seller Course
Successful Amazon seller and entrepreneur Phil Covington takes a direct approach in this course to teach sellers the following: 
How to source high-revenue products

 

Necessary steps to building a sustainable business

 

How to improve your website's user experience for higher conversions

 

The secret to a 

successful PPC campaign

 

How to structure your business to maintain legality

 
The ins and outs of Amazon FBA

 
As an FBA seller himself, Covington shares his personal experience and the tools he's mastered so that you can enjoy similar success. His costs range from $497 to $997 (take advantage of his current summer special). This course is for sellers who are willing to work hard for their success, but if you don't work past module W1 in the first 14 days, you'll receive a refund. The following video gives you an idea of the kind of material Phil covers in his sessions: 
This training experience helps you learn how to choose and source products, develop your store, optimize listings, and draw in customers. If you don't succeed in six months, the company will reimburse you and purchase up to $7,500 of your products. 
Proven Amazon Course
This course consists of more than 20 individual classes encompassing every Amazon FBA topic you could want to know. At $499 (just $29 per month), founder Jim Cockrum aims to make this educational experience accessible for everyone. The information he covers is ideal for self-motivated beginners looking to understand all the basics of being an Amazon FBA seller. Unlike other courses, the Proven Amazon Course discusses details about niche topics to maximize your breadth of knowledge.  
Although the information in these videos isn't as in-depth as others, this is one of the most affordable Amazon FBA courses available. It's a great value, provides useful information across a broad range of categories, and has a proven success rate among its users.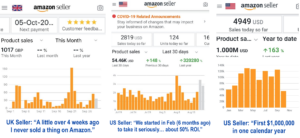 Emerald Helps FBA Sellers Succeed 
Emerald's retail experts help ecommerce sellers make informed decisions that can generate sales. Whether you're new to Amazon or are an established Amazon retailer wanting to explore FBA, Emerald can help guide you to success. 
Learn more about becoming an Amazon FBA seller. Register for Prosper Show today.