We like to use an Omni-Channel marketing approach, depicted in the infographic below, for helping to build your brand, accelerate sales and fuel company growth.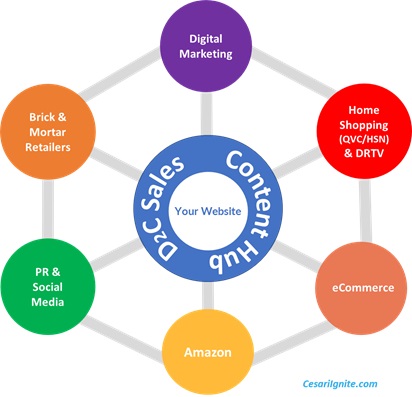 An important piece of this strategy is the Public Relations (PR) because if done correctly, it is one of the most cost-effective ways to build brand awareness and drive qualified leads to your website, Amazon listings or both.
I've had the privilege of witnessing first-hand how incorporating PR as a part of a company's Direct-to-Consumer (D2C) marketing strategy can truly add fuel to the marketing fire.  The key is to utilize effective media publicity that communicates, connects and engages your target audience, while simultaneously monetizing your efforts.  Here are a few reasons why adding PR to your D2C Marketing mix is a good idea:
Credibility: Credibility is an intangible, yet highly prized possession for any marketer; without consumer trust, you don't have a chance. No matter how great your product or service is, consumers may need that extra push to overcome the inherent distrust of marketers trying to sell, sell, sell. There is a work-around that helps build credibility fast, and that is third-party validation. By tapping into respected or trusted people in a category or topic, you benefit by association and the expert's credibility bleeds over to your brand. Who better exemplifies this than Dr. Oz? No matter what scandal Dr. Oz gets tangled in, his impact only increases and the brands he promotes gain prominence by association.
Momentum: Online and digital marketing is hot these days, but don't disregard all the other traditional channels of getting your brand message out into the mass consciousness. A good PR campaign incorporates all media outlets including online, TV, print, even radio. Awareness and credibility are reinforced every time a consumer is exposed to your brand, and increasing the number of touchpoints with the consumer adds to the momentum of your campaign.
Effectiveness: Getting the ball rolling on your campaign with mentions in magazines, TV shows, and social media are the first steps in harnessing PR for your brand's benefit. The next step is making sure that your campaign is running efficiently to maximize impact. You can often leverage media exposure by utilizing it in your TV ad campaigns. You can do this by showing the actual articles, magazine covers and TV segments, and/or by talking about them.   Even better, is to incorporate any sound bites and testimonials from celebrities, athletes, or ambassadors that have good things to say about your brand as a result of your publicity efforts. This gives your Direct Marketing credibility and increases the efficacy of each individual mention that your brand gets in any media channel.
Cesari Ignite uses an Omni-Channel marketing approach to help build your brand and increase sales both inside of and outside of Amazon.
As trusted advisors, we inspire and equip select entrepreneurs with the tools and strategies to grow both personally and professionally. With Cesari Ignite you will partner with business and marketing experts who have a long track record of successfully building recognized brands, like Sonicare, Clarisonic, OxiClean and GoPro. We bring you the unique combination of skill sets that will help accelerate your business and sales success.
* * * * * * * * * * * * * * * * * * * * * * * * * * * * * * * * * * * * * * * * * * * * * * * * * * * * * * * * * * * * * * * * * * * * * *
If you enjoyed this content, consider joining us at PROSPER Show, March 13-14, 2018 at the Las Vegas Convention Center.