How an eCommerce Virtual Assistant Can Boost Your Business
Article By: Catherine vanVonno, President and CEO of 20four7VA
Managing an eCommerce business is hard. Amazon sellers, and online sellers on other marketplaces, have to deal with a lot of things just to keep their business afloat. This is why more and more eCommerce entrepreneurs, even solopreneurs, are turning to an eCommerce virtual assistant to help them manage their online business.
How exactly can a virtual assistant (VA) help you with your eCommerce business? How much value can they offer? How are they better than hiring an on-site employee?
This article will explore the benefits of virtual assistance for eCommerce business owners, what a VA can do for your business, and a few tips on how to hire an excellent VA.
The Perks of Hiring an eCommerce Virtual Assistant
1. A VA can do the tasks you hate and give you up to 40% of your day back.
Did you know that business owners spend 40% of their day doing time-consuming tasks that don't generate income for their company at all? This is according to an article published by Entrepreneur.com.
There are so many admin tasks that are vital for business but don't really contribute to your company's growth. How many hours do you spend monitoring customer feedback and answering customer queries? How much time do you spend doing data entry, updating your product databases, writing and updating product descriptions, or doing accounting?
As a business owner, your time is better spent doing things that directly contribute to the growth and expansion of your company. These important but non-income-generating tasks are better left to the capable hands of a virtual eCommerce assistant.
As an added benefit, you can assign tedious tasks to your VA/s and reduce your stress levels. By clearing the clutter from your daily routine, you'll be better poised to push your business forward.
2. They're less risky compared to expanding your on-site team.
Many eCommerce entrepreneurs and Amazon sellers are hesitant to hire eCommerce virtual assistant services because of the usual risks associated with hiring on-site employees. However, many of these risks don't really apply to eCommerce virtual assistant services.
Unlike your typical on-site employee, you can hire an eCommerce VA only for the hours you need for as long as you need them. And, depending on where you hire from, there won't be any legal ramifications when you don't need their services anymore.
3. They cost significantly less than hiring an on-site employee.
The typical hourly rates of overseas virtual assistants are consistently lower than the average hourly rates of employees in many North American and European countries. This means that you'll be paying significantly less for what is essentially the same output. Also, hiring an on-site employee involves several added costs like insurance, office supplies, and utilities.
What Can an eCommerce Virtual Assistant Do for You?
There is a myriad of tasks that eCommerce virtual assistants are capable of doing. These include admin and customer service tasks such as:
● Managing Amazon Seller Feedback
● Processing returns and refunds
● Monitoring and responding to customer reviews and questions
Some eCommerce VAs are also able to do sales, research, and marketing tasks like:
● Managing your promotions
● Doing product, discount, and market research
● Reaching out to niche influencers
Of course, store management tasks are also usually assigned to an eCommerce VA. These tasks include:
● Managing your listings
● Fulfilling orders
● Monitoring and managing your inventory
● Optimizing product listings
● Editing product images
● Writing and uploading product descriptions
● Monitoring Seller Metrics
● Doing product procurement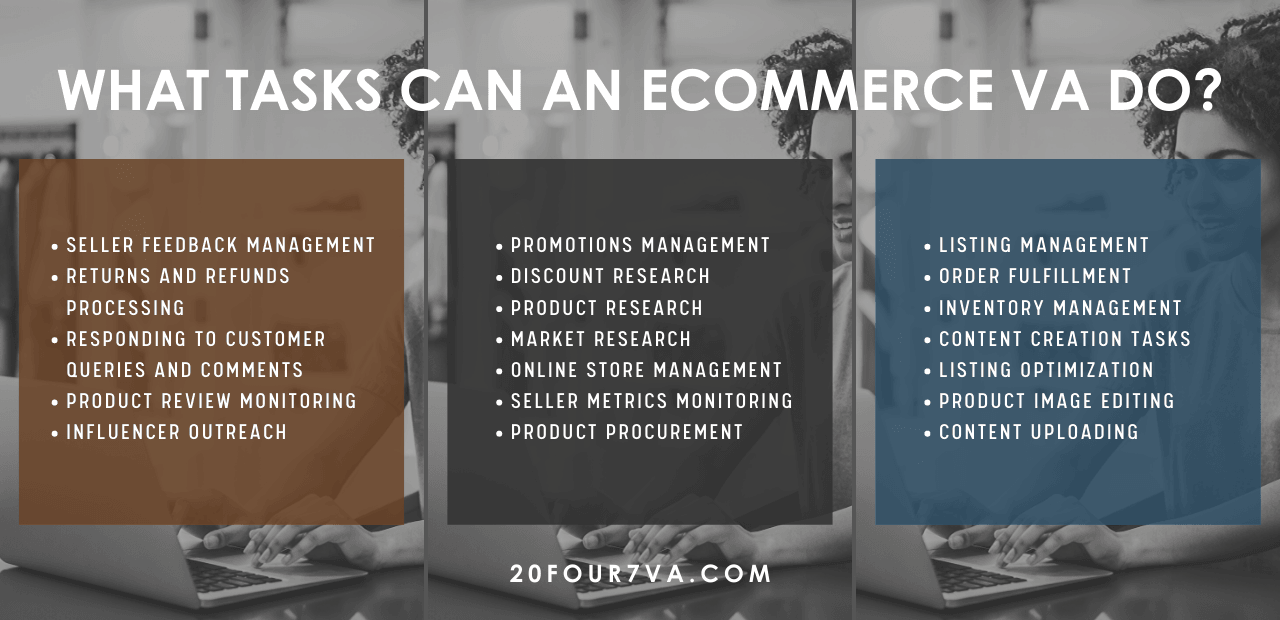 These tasks barely scratch the surface of what a virtual assistant for eCommerce store owners can do. If you need a more in-depth look as to what tasks you can assign to a VA, check out this article.
Ready to start hiring a virtual assistant for your eCommerce business? Check out our guide on How to Hire a Virtual Assistant.
Come meet us at Booth 606 and get a free consultation on growing your Amazon business (and other freebies) from 20four7VA . See you there!
Catherine vanVonno, President and CEO, 20four7VA
Contact when published:
Jackie Villegas
Content Writer and Email Marketing Specialist
+14438564882
hello@20four7va.com
copy: catherine@20four7va.com; digital@20four7va.com