Ngan Ton, Freelance Writer for PingPong; Founder, The Big Bold 
At the start of major quarantine efforts in the United States, consumer shopping habits were largely influenced by panic. Shoppers who were used to prepping for severe weather events naturally responded by stockpiling essentials for fear that supply chains would be overloaded.
As stay-at-home orders dragged and one and consumers discovered that they were still able to access goods just fine, shopping habits once again shifted.
Coronavirus is reshaping commerce in real time and undoubtedly into the future. By exploring many of the habits consumers are developing now, businesses can be better prepared for what's next.

Developing new and permanent shopping habits  

According to Accenture, the pandemic has encouraged consumers to adopt new habits and behaviors that many experts anticipate will continue in the long term. The top priorities include:
• Focusing on health

Consumers are making conscious choices about food and fitness to support a healthier lifestyle. Having a strategy focused on health will help many retailers stand out to shoppers.
• Conscious choices

As consumers make an effort to cut down food waste, spend less money, and choose sustainable products, businesses need to seriously consider incorporating this layer into their business.
• Staying local

Consumers are choosing to stay local and to purchase locally sourced products. For businesses, this means finding ways to connect locally, whether that's supporting community initiatives or spotlighting local achievements.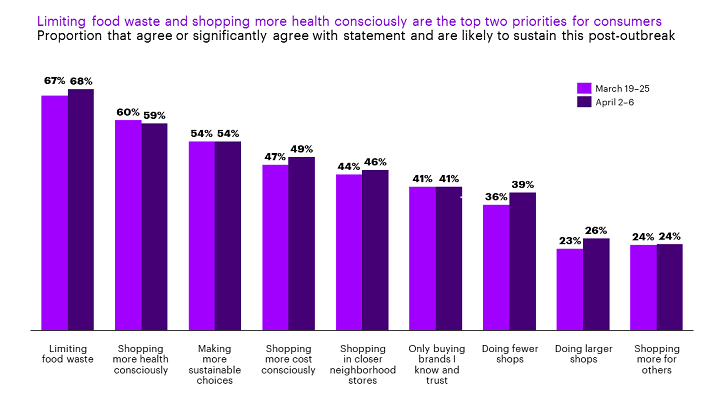 Source: Accenture COVID-19 Consumer Research, conducted March 19–25 and April 2–6

Let's see how these new habits have shaped behaviors.
Revisiting the cooking experience

According to SSA & Company, a global management consultant focused on strategy execution, the lockdown meant that between 35 and 40 percent of consumers began eating home-cooked meals for the first time. For these first-time home cooks, food became equal parts entertainment and sustenance.
The NPD Group, a global market research firm, shared that nonessential kitchenware sold particularly well as the quarantine was extended. NPD's Point-of-Sale Retail Tracking Service reported that small appliances were up +7 percent week over week for the week ending April 4, 2020. Items that fall into this group include sandwich makers, bread makers, rice cookers, vacuum sealers, and soda makers.
As summer approached, these experiences are likely to spill outdoors in the form of fruit and vegetable gardens.
Amazon's best sellers in kitchen and dining
Keeping busy with games
Traditional entertainment options have been on the rise. Non-digital book sales, particularly on the topics of religion, cooking, and DIY categories. Puzzles are also having a big moment.
Most people can only keep their eyes glued to Netflix for so long. Traditional games and interests will continue to gain steam.
Similarly, digital games have been thriving. Microsoft reported a 130 percent increase in multiplayer engagement across March and April. At the start of May, Nintendo announced sales of its Switch console were up 24 percent year-over-year, while its new game, Animal Crossing: New Horizons, had sold 13.5 million copies since its release in late March.
Amazon's best sellers in video games
Petcare

Americans have stepped up to foster and adopt animals to keep them out of shelters. Shelters and animal advocacy organizations with facilities in California, Michigan, New Jersey, Connecticut, New York, Texas, Washington, Florida, Georgia, Illinois, and North Carolina shared with NBC News that they were overwhelmed by the outpouring of community support to get animals out of shelters and into loving homes.
As a result, petcare company Chewy's numbers are up. Mario Marte, chief financial officer of Chewy shared,  "…for the first quarter 2020, we are expecting net sales between $1.50 billion and $1.52 billion, representing year-over-year growth of between 35 and 37 percent." Historically in a recession, consumers will cut back costs for themselves before they cut costs on petcare.
This will not be a long-term trend as normal life resumes. Most pet food can be stored for a long time, so the surge in purchases was more likely a result of stockpiling. However, with the increase in pet fosters and adoptions, petcare and toy purchases are likely to remain healthy.
Amazon's best sellers in pet supplies
Beauty and apparel

With the closure of salons and more face time opportunities than ever (e.g., Zoom meetings, Google Meets happy hours, Facetime family gatherings), consumers have to take some beauty routines into their own hands. According to a CNN report that included Nielsen data, hair clipper sales were up 166 percent, and hair dye sales were up 23 percent.
Amazon's best sellers in beauty and personal care
Remedies

With anxiety, stress, and fear running high, CBD and liquor sales are on the rise. CBD is commonly used by consumers to treat a number of ailments, including anxiety and pain. Alcohol sales are also on the rise, according to a CNN report with Nielsen data. Since March 7, alcohol sales have grown by nearly 27 percent.
What's coming up next?

What's coming next largely depends on how quickly we transition into the different reopening phases. If shelter-in-place orders remain in place, outdoor games and playground sets will likely become popular purchases. If restrictions lift and there's still plenty of summer to be enjoyed, consumers may be more open to the idea of travel and flight.
If you're interested in additional product opportunities outside of the U.S., click here to view our recent webinar that is part of Prosper Show's Route to Recovery webinar series webinar on demand —Leverage Leading Marketplaces to Win eCommerce in Japan.
PingPong will be at Prosper Show.  Our PingPong team will be more than happy to meet your and discuss your opportunities Feel free to stop by to chat.