Amazon is the world's largest product search engine, and it's just getting larger. Here's how it's changing in 2018.
In 2016, 55% of people in the U.S. started their online shopping trips on Amazon.com, according to results from a 2,000-person survey commissioned by the e-commerce startup BloomReach. That statistic marks a 25% increase from the same study the year prior.
Similarly, an April 2017 Forrester study stated that 31% of US online shoppers who purchased something in the past three months started their research on Amazon. For a sense of scale, there were nearly 2.4 billion (!) site visits to amazon.com that month.
Think about how much search traffic Amazon needs to route to support 2.4 billion monthly visits. To create a sales opportunity out of every visit, they must present the best set of search results every time. And as the most significant shopping site in the US, Amazon must continuously refine their website – especially their search algorithm, A9.
A9 serves up the "most important" keywords after you type just one or two characters in the search bar. You can see this in action by going to amazon.com, typing any letter, scanning that list and then typing in another to see how those suggestions change. These are signals about the strength of a particular keyword. If you type in 'i,' why do the search suggestions fill up with 'iphone case' variations? Because those sell and those are what people want. Not 'igloo' (sorry, Igloo), nor 'ibuprofen.' To be sure, both are popular terms, but not when A9 compares them to 'iphone.' That's because A9 works on two principles: 1)People are lazy (i.e., they don't want to type), and 2) It knows what has the best chance of selling.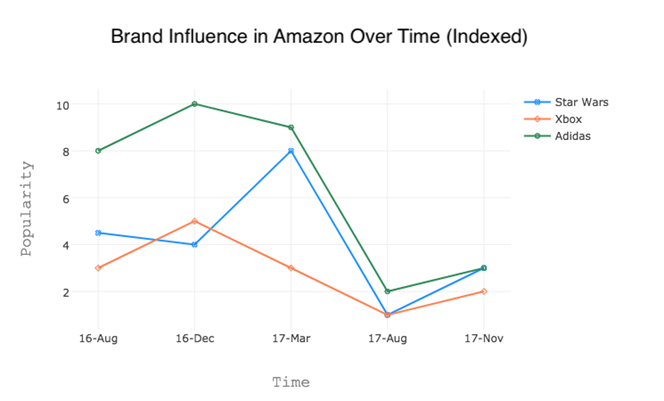 Before August 2017, we consistently observed terms like 'adidas,' 'star wars,' and 'xbox' at the top of these search suggestions. But if you think about the resulting set of search results for 'adidas' what do you envision? Shoes? Activewear? Baby clothes? Bags?
If you answered 'all of the above,' then you'd be correct. And if you concluded that a search results page with a multitude of different products doesn't have the best chance of selling something, then you're ahead of the game.
So what did Amazon do? They pushed those terms down the line. Now, major brand names like Adidas do not show up until you type in 2-3 characters. And when it does show up it's at the bottom of the list – there is just too much diversity in a brand keyword like that to be useful. However, brands like Zippo didn't see a drop. Why? Because in cases like this the brand keyword helps specify an exact product.
You're probably wondering what this means for you. Our theory is that A9 is following the similar evolution of most search engines. It's getting better at recognizing what keywords are relevant, and what keywords lead to ambiguous search results. In computer science, this evolution takes the form of Natural Language Processing (NLP). A9 is teaching itself to read and understand human actions.
Remember, ambiguity in search results, for Amazon, lowers the probability of sales. If they can take all of the 'adidas' keyword traffic and route it instead towards 'adidas shoes men' or 'adidas shoes women' that increases the probability of a sale. And that's just what they did last summer.
But they didn't stop there. Another significant change is the new 250 character limit on backend keywords. They finally put an end to keyword stuffing. No more brand names. No more plurals. No more misspellings. No more duplicates. And no more punctuation and capitalization variations.
Why? Well, this is most likely because those types of keywords lead to poor search results.
Customers must be able to find your products before they can buy what you are selling. And search is the primary way customers find products on Amazon. With every keystroke, shoppers are telling A9 what they want to buy, and the algorithm tries to match those queries with the most accurate product listing available. In other words, where your product appears in a customer's search results is determined by how closely a listing matches, its price, availability, selection, reviews, and sales history. Providing relevant and complete information for your product can increase your product's visibility, and, therefore, your potential sales.
The cool thing is, we see NLP being applied here as well. A9 has the customer in mind, and so should you. It is continually making and refining relationships between keywords. Your responsibility as a seller is to make sure your product listings enhance the discoverability of your product. Here are some tips to keep in mind:
Make sure to answer common customer questions in the bullet points; why should they buy it? How does your product help provide solutions, and meet your customer's needs?
Write descriptions for real customers, always keeping in mind that your audience is global.
Consider the breadth of synonyms you can add to help A9 make better connections between real search terms and your products.
Optimize your product images and descriptions for the mobile user experience as well, as a non-trivial amount of people now shop on their cell phones.
Run tests on variations of long-tail keywords to uncover search opportunities where there is low competition.
Be super specific about the keywords you choose – let customers find you by your products, and not just your brand.
Amazon's latest algorithm updates are the most recent step to assure that its search functionality will produce far more relevant results–a net positive for sellers, shoppers, and Amazon. Therefore, spending more time optimizing your keywords and listings–for both organic and paid search–is likely to produce higher conversions.
MerchantWords compiles and monitors keyword searches and search volumes from online marketplaces worldwide, allowing us to derive unique insights into buyer demand. Our business was built by helping sellers, big and small, expand the vocabulary of words they use to describe their products. In doing so, we've helped thousands of international merchants turn struggling products into bestsellers by making simple adjustments to their listings.
Twitter: https://twitter.com/MerchantWords
Facebook: www.facebook.com/MerchantWordsOfficial/
* * * * * * * * * * * * * * * * * * * * * * * * * * * * * * * * * * * * * * * * * * * * * * * * * * * * * * * * * * * * * * * * * * * * * *
If you enjoyed this content, consider joining us at PROSPER Show, March 13-14, 2018 at the Las Vegas Convention Center.