3 Ways to Transform Your Amazon Listing to Grow Your Sales and Build Your Brand

Emma Schermer Tamir, Co-Founder of Marketing by Emma
Take a moment and type your brand's name into Google. What results do you get? Hopefully your website is at the very top of the list. But what other sites are winning a spot on the first page?
Let's do the same thing with the brand "method" as an example. Their innovative packaging design and non-toxic formulas allowed them to gain market share in a fiercely competitive space that's been long dominated by some of the biggest business titans.
Of the seven results that appear on page one, two of those seven will send you to Amazon.
Now, let's imagine that you love method hand soaps. And since the pandemic started, you've been doing all of your shopping online. So rather than simply tossing a few bottles into your cart during your usual Target trip, you search "method hand soap" to explore your options.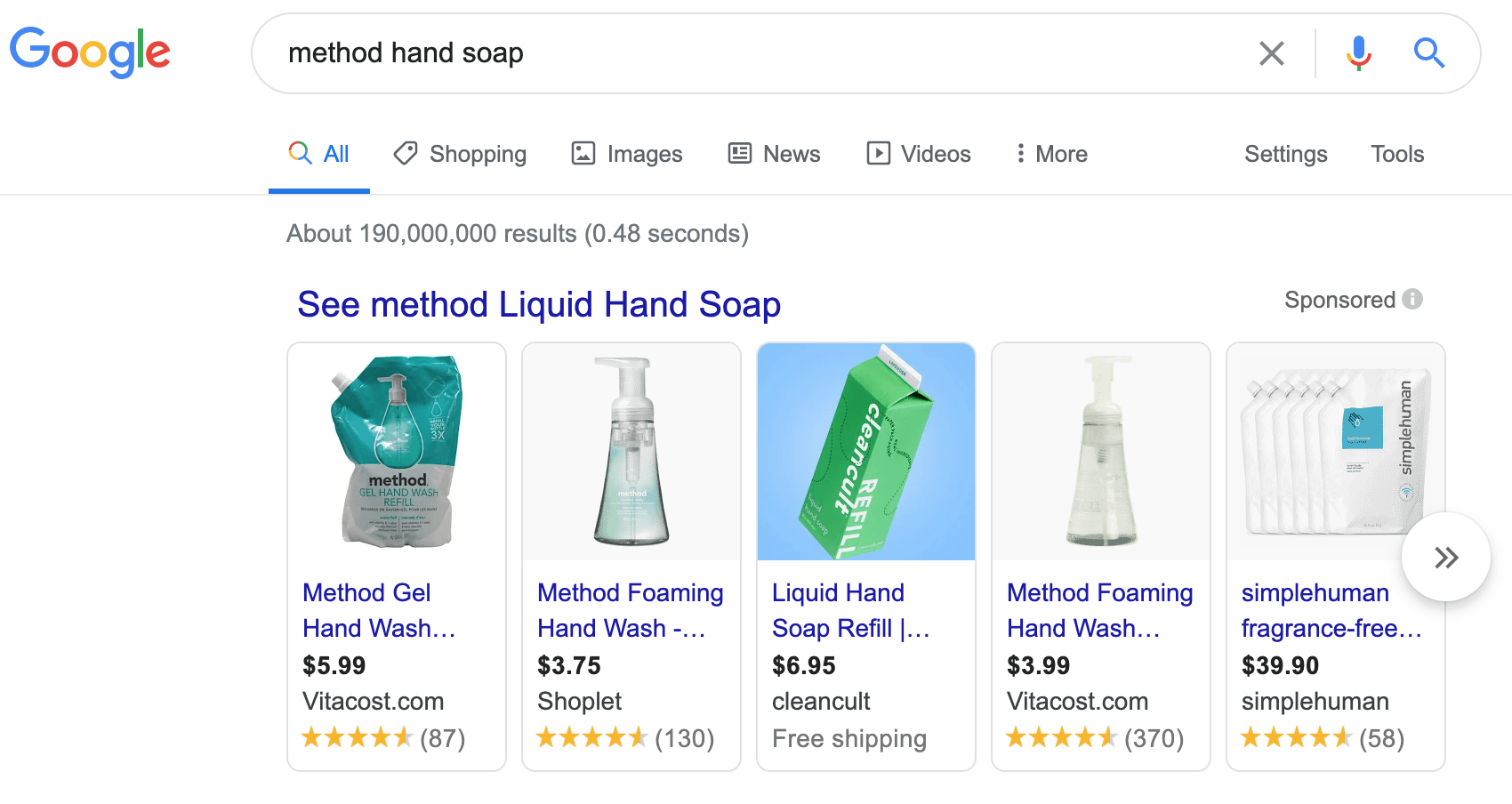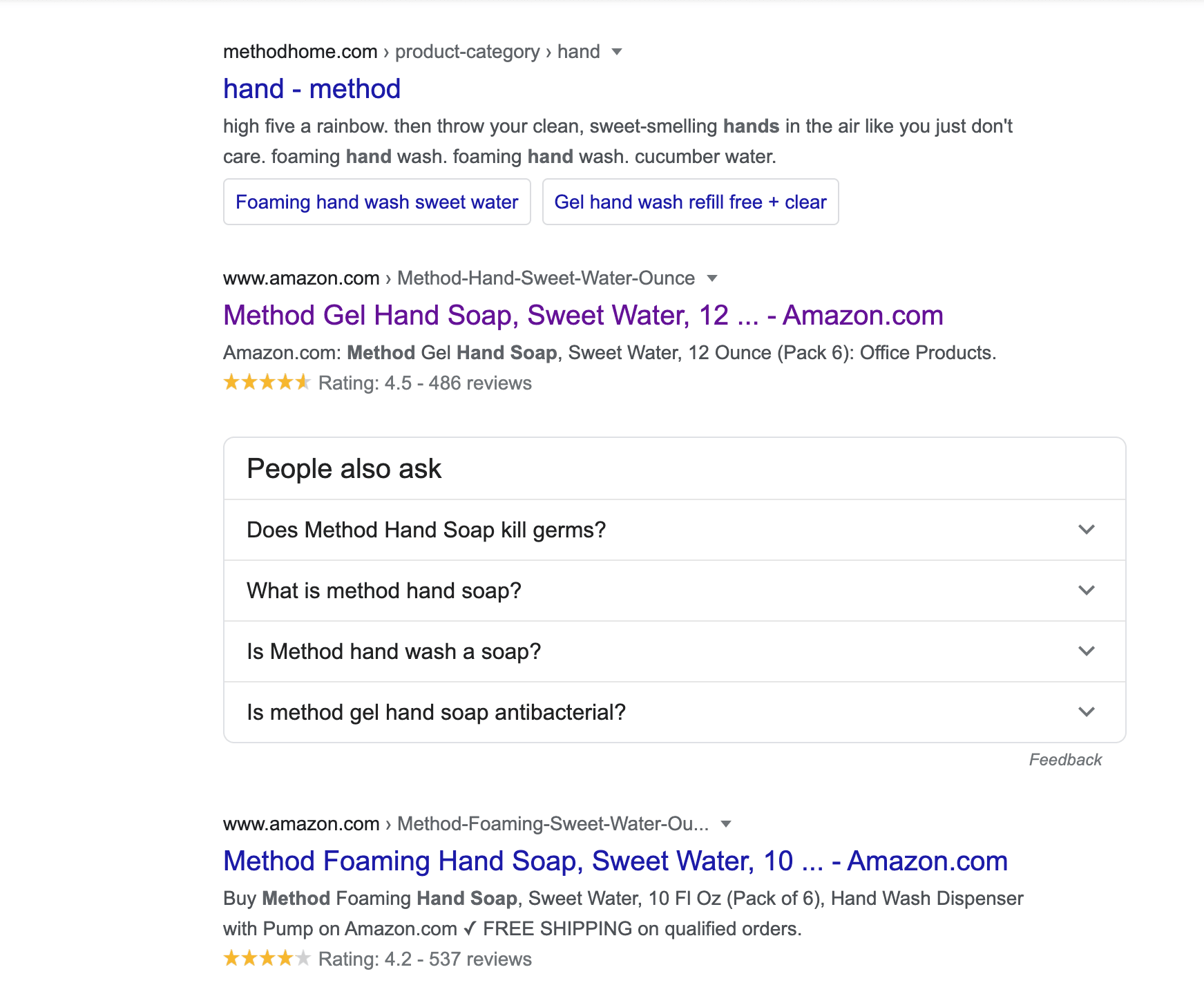 Two of the three top spots take you directly to product pages on Amazon.
Regardless of where you ultimately choose to purchase your hand soap, the chances are high you'll click into at least one of these listings to compare prices, read reviews to determine the best scent, etc.
Surveys frequently analyze where searches originate, but less attention is paid to the journey they take and where they ultimately lead. Combine the searches that start in Amazon with those that funnel into it from search engines like Google, and your listing becomes a powerful landing page for both new and loyal customers.
For new customers, it's an entry-point into learning about what makes your product special and your brand worth exploring. For loyal fans, it's a chance to reinforce your core values, solidify their commitment to choosing you, and excite them about other product offerings. But when done poorly, your Amazon efforts can backfire—closing doors on new leads and turning away once loyal fans.
Whether you're launching your products there exclusively or you're an established household name that sells across many channels (like method), Amazon can be a great place to gain exposure, strengthen your reputation, enhance your customer relationships, and grow your revenue. But only if you do it right.
Skeptical about what kind of difference these efforts can make? We just spoke to a client that focused on the following three steps (without creating A+ Content or new images), and took their conversion rate from 4.6 to 29.3%!
Are you making sure you're doing everything you can to leverage your Amazon listing to its full brand-building potential?
Follow these 3 steps to harness Amazon's power and strengthen your brand:
1. Optimize for Maximum Eyeballs.
While this article is about how to maximize your real estate once customers land on your page (wherever they come from), all listing optimization efforts MUST include SEO strategy in order to achieve optimal results. Beautiful images and compelling copy need traffic to really shine. Strong SEO on AND off Amazon and well-run advertising are essential elements of any successful Amazon listing.
Ensure your listing has a strong SEO skeleton to support your marketing efforts by:
Collecting data – Use tools to identify commonly searched phrases to consider incorporating into your listing.
Getting picky – Once you have your list of keywords, go through it to select the words worth incorporating into the copy of your listing. Factors to consider include: Level of competition, search volume, relevancy, etc.
Using wisely – Be thoughtful about how you incorporate your keywords into your listing. Use phrases with discretion to avoid keyword stuffing.
Brand registered? Enhance your Amazon listing's Google searchability with A+ Content copy and alt-image text. Incorporate valuable keywords into these parts of your listing to expand your reach off Amazon.
2. Tap Into Your Customers' Concerns.

I've looked at thousands of Amazon listings, and one of the most common mistakes that I see businesses of all sizes make is not being customer-centric with their content.
People are searching for a product to solve a problem. It's your job to help them understand that your product is their solution. Doing this requires a clear understanding of who your customers are, what they care about, and how they like to communicate.
Before you begin to write about how great your product is, you need to establish a solid idea of who you're selling to. Not sure how to do this? Get curious! Use these questions as a springboard to get started:
What immediate problem is your product solving? What additional problems does using your product solve?
What makes your product unique? Why should customers choose you over your competitors (both direct and indirect)?
What other brands do your customers love? Why do they love these brands?
What influencers do your customers follow? What do they aspire to be like?
What worries do your customers have? What keeps them up at night?

What values do they have that they will make sacrifices to maintain – paying more for a product that meets certain standards, choosing something that doesn't work as well because it's better for the environment, going with a less known brand that stands for something they believe in?

Who shouldn't use your products? Why aren't they the right fit?
Feeling stumped? Read your competitors' reviews for direct insight into your customers' minds.
Once you're clear about these details, it's time to create a listing that directly addresses your findings. Channel a voice and use language that will resonate with them. Pinpoint their pain points. Honestly communicate your products' benefits.
Everything you write and every image you create should put your customer at the center. If something doesn't matter to them, should it really be there?
    3. Go Bold With Your Branding.

Is your brand registered with Amazon? If not, go do that right now! If you are, are you taking full advantage of all of the tools available to you?
A+ Content is one of the privileges of Amazon brand registry, and it's a fantastic way for businesses to help their products and brand shine. But even if your listing doesn't have A+ Content capabilities, that doesn't mean branding can't be a great ally to help you increase your sales. Follow these principles to create more powerful imagery, more convincing copy, and more.
Just as you must dig into who your customers are, you need to be asking the same questions of your own business. Imagine your brand as a person, and use the prompts from #2 to clearly define who your brand is and how it operates in the world.
Let's go back to that method hand soap listing we were talking about earlier. Here's their A+ Content: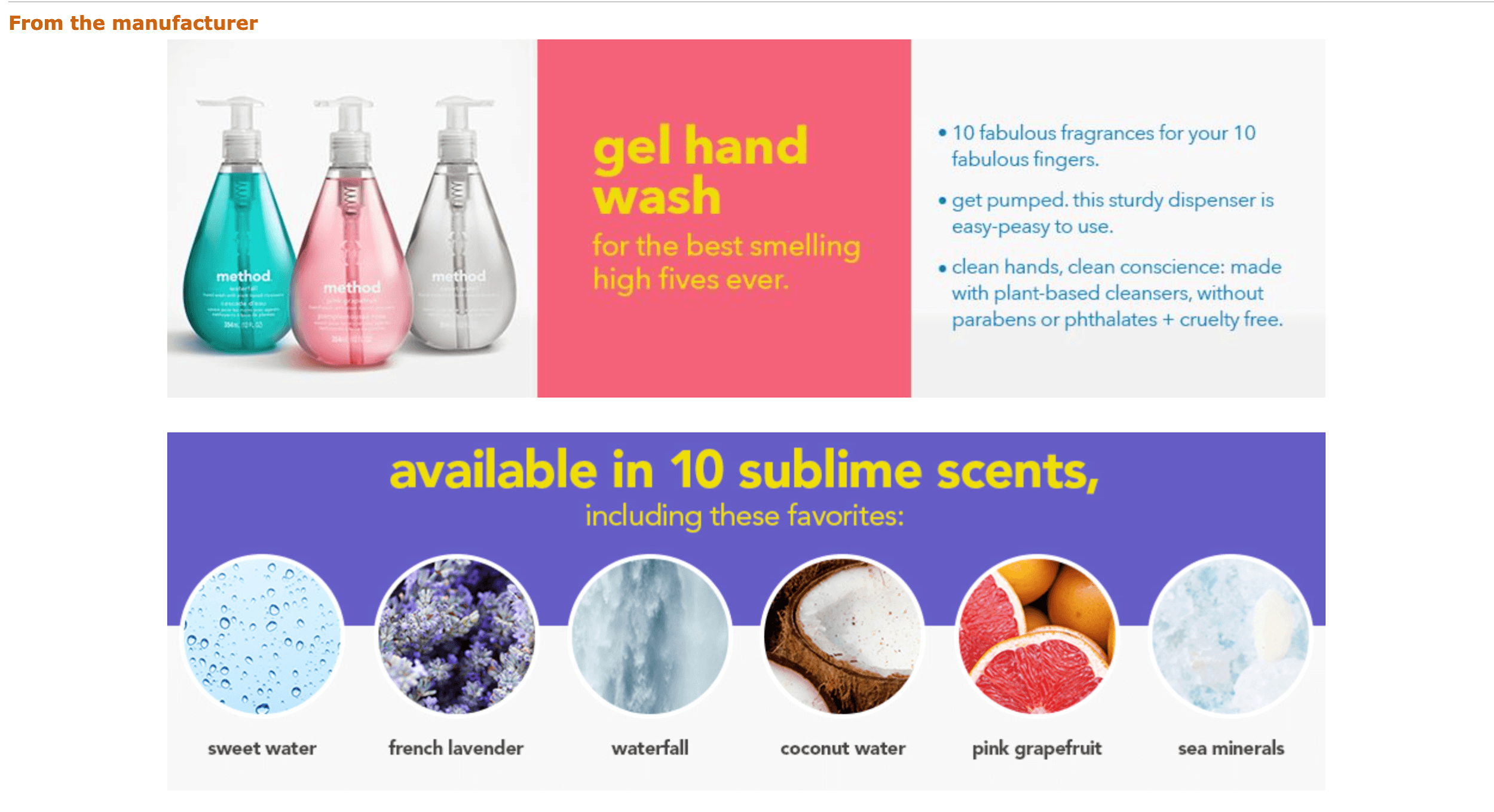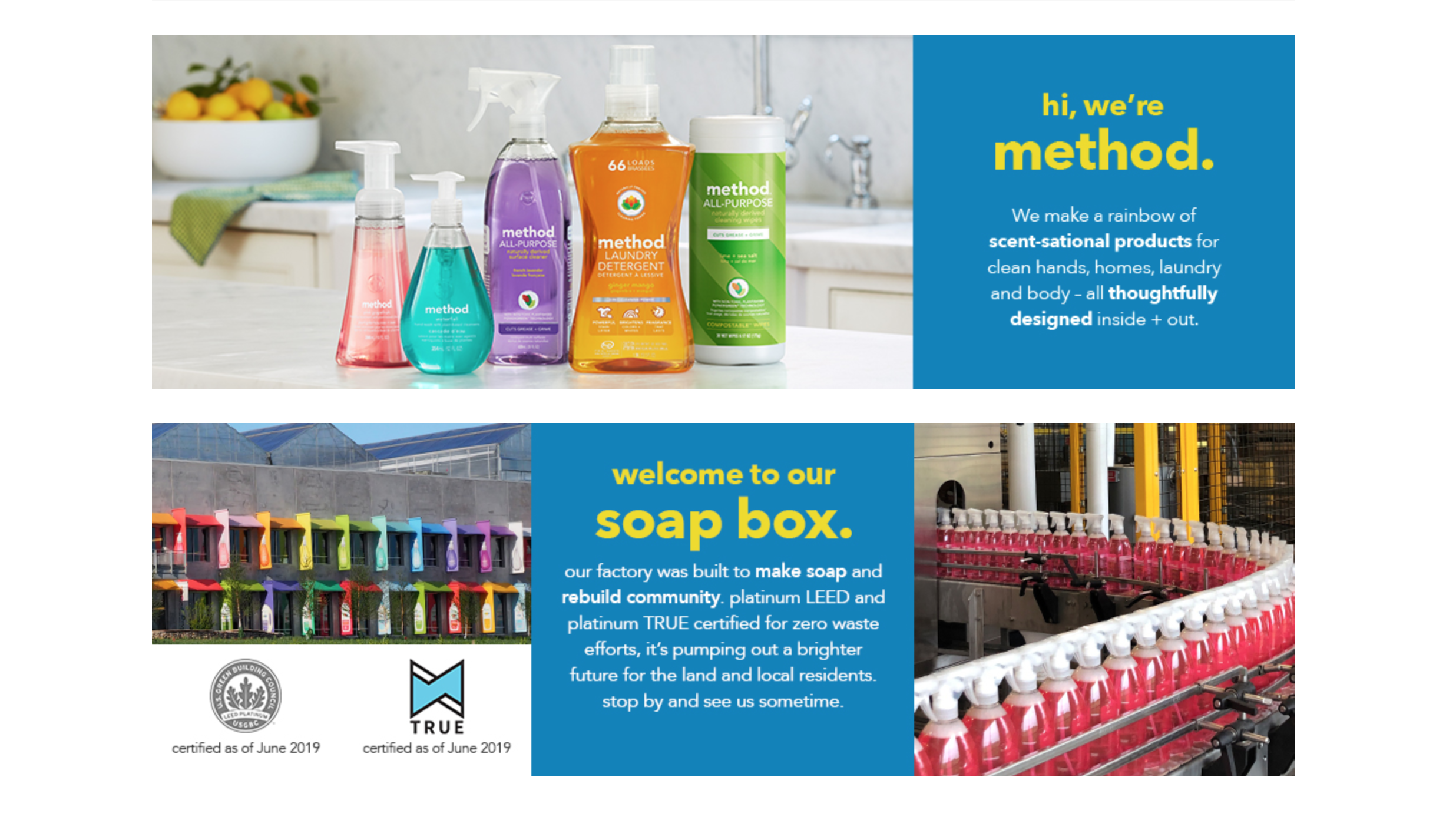 This isn't an example of A+ perfection, but they're doing a lot of things right:
Establishing a clear brand identity – they use all lower case, have a witty sense of humor, and use bright, lively colors.
Including information customers care about – smells great, good ingredients, cruelty-free
Sharing their brand story and "why" – clear mission statement, a whole section devoted to their "soap box"
Cross promoting other products – four of their five A+ modules give attention to other products in their line
Something they should work on:
The standard comparison table module (the last section of their A+ at the bottom of their listing) is an awesome way to compare similar products or show off other products in their catalog. However, just using the image and names is a missed opportunity. Creating a small table highlighting some of the key benefits would help drive home the unique selling points of method products. This could include rows like "fully recyclable or biodegradable," "paraben- and phthalate-free," "smells like a million bucks," the scents they come in, etc.
Regardless, method is clear about who they are as a brand, and this clarity empowers them to make creative choices that set them apart from their competitors.
Be bold enough to stand out. Not only will this make decisions easier for customers experiencing choice paralysis, but it will also give you a better chance to connect with future raving fans—people love brands that make a statement about who they are and who they aren't, not businesses that try their best to blend in with everyone else.
Conclusion:
Whether people are going to your Amazon listing to price check, prefer Prime shipping, or review their options, make sure that your product page is set up to capture, connect with, and convert as many customers as possible. Drive traffic with a stellar SEO strategy, forge relationships with a deep understanding of your customers, and win raving fans by being a bold, confident brand.
Not sure if your listing has what it takes to build your brand as the one to beat? Get a free listing analysis to discover how you can optimize your listing for Amazon success!
I will be speaking at 2020 Prosper Show and look forward to answering additional questions on September 2 in my presentation Tear Down Amazon Listings: Best Practices to Follow for Private Label Brands. See my bio on the 2020 Prosper Show speaker page.