Are live video and virtual experiences the future of ecommerce?
Amazon thinks so.
That's why the retail giant launched Amazon Live in 2019 to give brands and influencers the chance to harness the power of livestreaming for their audiences.
It's no secret that live videos typically perform better than prerecorded ones, often earning at least double the engagement in comparison. And considering that QVC generated $11.47 billion in revenue in 2020, there's something to be said about the effectiveness of livestreaming for marketing products.
Amazon is opening the door to give more businesses a platform to feature their products through live videos.
If you have a business on Amazon, what does that mean for you?
Key Takeaways:
Live video and virtual experiences are outperforming prerecorded videos.
Amazon Live is offering new opportunities for brands and influencers to stream on a large platform and accumulate followers on Amazon.
Product carousels, live chat, and unlockable extra features are making it easy for brands to get noticed and create shoppable live video streams.
How Can Live Video and Virtual Experiences Help Your Business?
By 2028, the global video streaming market is predicted to be worth $223.98 billion.
Marketing trends over the past couple of years are showing that audiences favor authentic live videos over staged and heavily edited content that feels fake and flashy.
Viewers are devouring live videos and virtual experiences because:
Livestreaming has a sense of urgency and immediacy.

Everything the audience is seeing and hearing is happening in real time. This helps them to form a closer connection and feel like they're actually there.

Users can directly interact with the host(s).

On most platforms, viewers can engage with you by typing their comments into live chat. This immerses them in the experience and affords them some control over the content.

Live video streams are more genuine than doctored product videos.

Authenticity and trust have

become important factors

in today's market. Most viewers would rather see a regular person speaking to them and demonstrating a product than a stylized, picture-perfect video shoot setting.
The COVID-19 pandemic had a drastic impact on the virtual scene, but the truth is, society was already trending in that direction.
In 2021, virtual reality (VR) and augmented reality (AR) are predicted to experience growth much faster than previously expected before the pandemic. An estimated 58.9 million people (17.7% of the U.S. population) and 93.3 million people (28.1% of the U.S. population) are predicted to use VR and AR at least once a month, respectively.
5 Benefits of Using Amazon for Your Business's Live Videos and Virtual Experiences
Audiences are clamoring for live streams and virtual experiences. Prime customers already expect free and fast shipping, and now you can also offer them live videos to keep them actively engaged.
This isn't the first time Amazon has attempted to go head-to-head with QVC's live business model. In 2016, they launched Style Code Live. The show featured hosts, guests, and experts to showcase products and talk about style tips.
But Style Code Live was restricted to fashion and beauty, and Amazon pulled the plug a year later.
With Amazon Live, the platform took a different approach. Products and topics are much more diverse, and instead of focusing on a single live show with Amazon hosts and guests, Amazon opened the opportunity to any of their business-affiliated brands and influencers.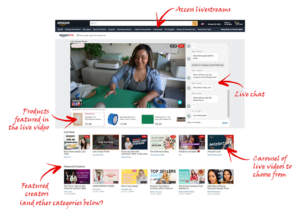 Here are some of the ways Amazon's live videos and virtual experiences can take your brand to the next level.
1. Reach a New Audience on Amazon 
Amazon already has a colossal, well-established platform. And now, you can tap directly into it with live streaming. When you go live, your stream automatically shows up not only on your brand's page, but also on Amazon Live's home page.
A carousel of live videos beneath the featured stream allows viewers to browse what's playing and tune in to the video that interests them.
2. Demonstrate Your Products with Deals and Special Pricing 
Your Amazon Live stream features a shoppable product carousel showing the items you're featuring, easily accessible right below your video. Viewers can see the products in action as you use them on screen in a professional demonstration, DIY tutorial, instructional how-to, or other types of live video.
The carousel boasts the effectiveness of shoppable images customers can find on Facebook and Instagram while adding the powerful element of live video. This affords customers the added benefit of seeing the products in use.
3. Unlock Extra Perks and Features 
Every creator starts in "Rising Star" status. Amazon Live rewards brands and influencers who stream regularly and maintain strong engagement. The better your streams perform, the more places your videos can be showcased, like the Amazon.com homepage and featured categories on Amazon Live.
4. Live-Chat with Your Viewers 
Amazon Live captures the same live-chat thrill that many other platforms have. Viewers can interact directly with the host by typing their questions and requests in chat, allowing you to directly respond to them during your demonstration.
This makes viewers more than passive bystanders. It increases their engagement and allows them to be a part of the process with you.
5. Grow Your Following 
Just like other social media platforms, you have the ability to build followers directly on Amazon and increase your viewership. Followers can also choose to be notified via the Amazon Shopping mobile app whenever you start livestreaming.
Virtual Interactive Experiences and Livestreaming are Redefining the Way Brands Approach Ecommerce
Amazon Live is capitalizing on a trend we've seen coming for a while now.
Videos are one of the most engaging forms of visual content marketing, and live videos outperform staged and edited pre-recorded videos. Even as life returns to a semblance of normal, virtual shopping isn't going anywhere.
If you're an Amazon influencer or seller and haven't checked out Amazon Live yet, what are you waiting for? Leverage creative video marketing for Amazon and start boosting your sales. Your audience is waiting!
Are you interested in learning more about how to sell and market on Amazon? We're here to help Amazon sellers succeed. Visit our blog for more information.